Experts from the Museum of London Archeology, have uncovered a fresco six metres below street level, which they believe once adorned the residence of a wealthy Roman citizen.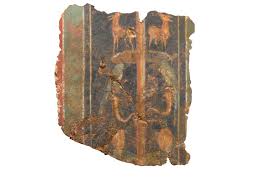 The large fragment, measuring about 2.5 metres by over 1.5 metres, was uncovered during field work for a new office development and dates back to the late first century during the initial settlement of the London area.
The experts believe the painting is likely to have decorated a reception room where guests were greeted and entertained.
The fresco depicts deer nibbling trees, birds, fruit and a vine woven around a candelabrum.  It was apparently hand-painted by a skilled artist is natural earth pigments, with one exception.  An area of the twisting vice stem, in red, uses an expensive mercuric sulphide pigment that the experts say had to be mined in Spain.