The new Scarborough transit plan is officially on track.
Members of the city's executive committee have unanimously endorsed the proposal which Mayor John Tory has been selling as a plan to service more transit to more residents. It now goes to city staff to study and report back on.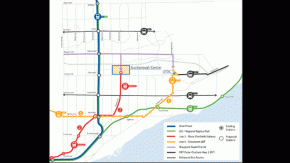 The revised proposal has a one stop subway extension from Kennedy station to the Scarborough Town Centre and a 17-stop light rapid transit line on Kingston Road and Eglinton Avenue.
The plan also has the endorsement of the city's chief planner, Jennifer Keesmat.
"We're trusting that if we communicate clearly that in fact the residents in this city will see the value of this transit investment, not just for Scarborough, but for the whole city. This is about the whole city and it's about the network and a network that works," Keesmat explained.
The proposal would scrap two of the three planned stations on a subway extension and reinvest the estimated one billion dollars in savings into building the LRT line that will connect with the Eglinton Crosstown LRT and go to U of T's Scarborough Campus.