It was an odd spectacle on American television last night, as Republican presidential candidates debated on one network while the front-runner in the race held a rally on another.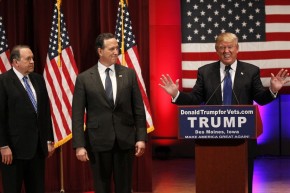 Donald Trump boycotted the debate in Des Moines, Iowa hosted by Fox News Channel, saying the network wasn't treating him fairly. He says he did receive an apology from Fox, but it was too late to change his plans. Instead, he held a rally nearby to raise money for veterans.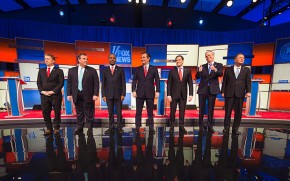 (Republican Presidential candidates, from left: Rand Paul, Chris Christie, Ben Carson, Ted Cruz, Marco Rubio, Jeb Bush, John Kasich. Photo credit: AFP)
Meantime at the debate, Donald Trump was the first topic of discussion. Senator Ted Cruz first thanked Iowans for their hospitality and then channeled Trump.
"I'm a maniac, and everyone on this stage is stupid, fat and ugly, and Ben (Carson), you're a terrible surgeon. Now that we've gotten the Donald Trump portion out of the way," Cruz joked to laughter and applause.
Ted Cruz, who was born in Calgary to a Cuban father and an American mother, is seen as the main opponent to Trump for the GOP nomination.