The rivalry between two very rich titans of the tech age will play itself out in song on Broadway this spring.  "Nerds" is the story of Microsoft's Bill Gates and Apple's Steve Jobs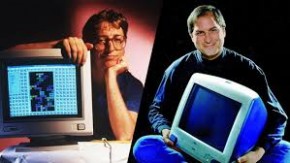 The show has been circling the Great White Way for a decade playing to largely regional audiences.
As you might expect, the Broadway debut will include some high tech wizardry including the use of holograms, projection mapping and an app that allows theatre-goers to interact with the performance and tweak the plot.
"Nerds" begins performances March 31st and opens  April 21st at New York's Longacre Theatre just in time to qualify for Tony nominations.