Zoomer acting legend Andrea Martin is back on Broadway in a production of a play that England's Daily Telegraph called "the funniest comedy ever written".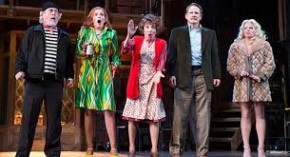 Martin is part of an ensemble cast in the Broadway revival of "Noises Off" which opens January 14th.
"Noises Off" is a play within a play about an ambitious director and his troupe of mediocre actors.  The cast and crew are putting together a silly sex comedy titled "Nothing On" a single-set farce in which lovers frolic, doors slam, clothes are tossed away and hi-jinks ensue.
Previous productions of "Noises Off" have received five Tony Award nominations, including best play and one win for best featured actress.