As of New Year's Day there are changes to coming to the way we operate in Ontario.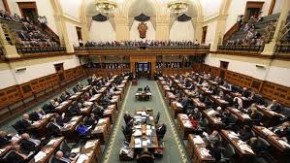 As of January 1st, new laws passed at Queen's Park, prohibit smoking anywhere on the grounds of a hospital, ban the sale of flavoured tobacco and end the sale of e-cigarettes to children.
The province's drivers will be required to wait until a crosswalk is fully empty of pedestrians before they can proceed.  As well, vehicle insurance companies must offer you a discount if you install winter tires on your car.   Bad drivers who are ordered to attend demerit point interviews will be charged a $50.00 fee to cover the cost and will lose their driver's license if they don't pay.
And, if you are are MPP or concerned about how much of your tax money your MPP is spending, all Members of Provincial Parliament will be required to post their expenses on-line.