There's a bit of good news for Toronto's taxi drivers as the year comes to a close.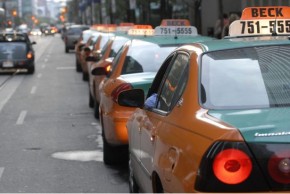 Mayor John Tory wants the city's taxi licensing fees frozen at 2015 rates until new rules are established to govern both the taxi industry and the ride sharing service Uber.
The mayor wrote in an open letter sent to the city's budget chair, Councillor Gary Crawford, that "this will offer some modest relief to those paying the fees early in the new year."
Beck's Operations Manager Kristine Hubbard thanked the mayor for listening, a day after she blasted the city for the impending 2.5 percent hike.
In an emailed statement, Hubbard says her company looks forward to working with the mayor and councillors to establish "smart and effective regulations that are fair for the entire ground transportation industry and properly protect the citizens of Toronto."
New bylaws that would regulate Uber are expected to be drawn up by city staff in the new year and will need to approved by Toronto City Council.