Just in time for the holidays, the Art Gallery of Hamilton is offering a special viewing of a painting by a contemporary of Leonardo da Vinci, the 15th century Italian court artist Ercoloe de Roberti.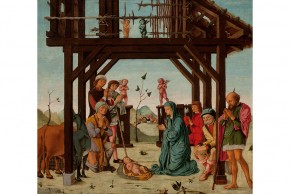 Entitled "The Adoration of the Shepherds", the 600-year old painting unites three events central to the story of Christ's birth:  the nativity in the manger, the adoration of the shepherds and that of the three kings.
The painting is gift from the Joey and Toby Tanenbaum Collection.  The Gallery calls it an exquisite example of early Renaissance painting that will help bolster the Gallery's position as an important repository of European art.
"Adoration of the Shepherds" is on view until March 20 of next year.