Conrad Black has received praise from Donald Trump for the piece he wrote for the conservative National Review called Trump Is the Good Guy.
Trump tweeted to the Canadian born former media baron, "what an honour to read your piece…as one of the truly great intellects and my friend…I won't forget".
The basic premise of Black's piece is that Trump is being unfairly smeared by the political establishment and media, whom Black accuses of dishonestly distorting his policies.
Specifically Black thinks Trump was simply misquoted regarding his policy to bar Muslims from entering the U.S.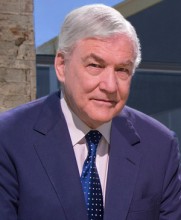 "I don't agree with Donald. That's not my point. He's not anti-Muslim. Incidentally, half of the refugees are Christians anyway, who are not affected by what he says, but he shouldn't have said it the way he said it. He is in effect saying what the director of the FBI Comey, who is no great prize either by the way in my opinion, but that's another issue. Comey said you can't screen these people at adequately if you bring them in quickly, and Donald is not saying we can't ever have Muslim immigrants, he's saying we can't let them in right now without proper screening," Black explained.
Black says many of Trump's policies are reasonable, including restrictions on third party political contributions to so-called Super PACs, booting out 350,000 illegal immigrants convicted of crimes and universal health care for all Americans.
Conrad Black is the co-host of The Zoomer, on our sister station, Vision TV.