There is a very interesting and unusual auction at Christies in London today.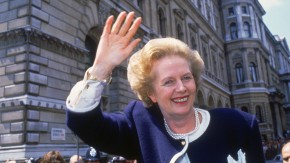 Some 150 outfits and accessories worn by England's former Prime Minister Margaret Thatcher go under the hammer.  The fashion editor of the London Times, Anne Murphy, says under Thatcher's famous shoulder pads,  The Iron Lady (as she was known) took fashion seriously and says some of these outfits would suit other women politicians like Hillary Clinton.
Thatcher was Prime Minister of the United Kingdom from 1979 to 1990.