Jerry Seinfeld continues to make millions from his long running TV series, but the zoomer comedian says he needs to keep doing what he does.
"I'm a comedian, I mean when people laugh, that's the only thing in my life that isn't work," Seinfeld explained.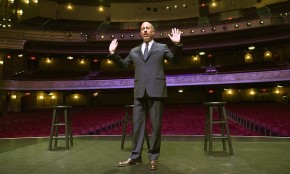 He's decided to perform once a month at the 2800-seat Beacon Theatre on Manhattan's Upper West Side next year.
"You know a career kind of comes out of that culture that you grew up in, and I feel like New York and Long Island is kind of what gave me the perspective to do what I do," the 61 year old comedian said.
Jerry got the idea to do the residency from Billy Joel when the comic attended one of the Piano Man's monthly shows at Madison Square Garden.
"First of all, he's such a great performer, his show is so great," Seinfeld said. "Who else could do something like this? And then I thought of myself."
Tickets for Seinfeld's first six shows go on sale December 7th.
Tickets will be available at both the Beacon Theatre website and at Ticketmaster.