A rare painting of St. Luke Drawing the Virgin and Child, by early Netherlandish artist Dieric Bouts, won't be leaving England any time soon.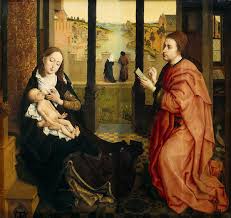 The British government has placed an export ban on  the 15th century oil which is valued at more than $5 million.
Britain's Culture Minister says the painting is the only example of St. Luke drawing the Virgin Mary and Christ by a Northern European artist on display in England.
Bouts was one of the leading and most influential painters of the period and is considered a pioneer of the oil painting technique.
The export ban could be extended through June of next year which a serious buyer is sought in the United Kingdom.