A soon-to-be Canadian plans to formally recant the mandatory oath to the Queen today,   right after he becomes a Canadian citizen.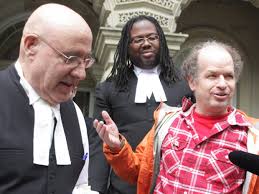 49-year old Dror Bar-Natan, a math professor. was one of three long-time permanent residents who challenged the constitutionality of making citizenship conditional on promising to be faithful and bear true allegiance to Queen Elizabeth the Second, Queen of Canada.
Bar-Natan has been in Canada 13 years and has set up a website to allow other new Canadian who oppose the monarchy to disavow their oaths to the Queen.
Ontario's top court ruled the Queen remains Canada's head of state and the oath is a symbolic commitment to be governed by a constitutional monarchy.  It also ruled, that all citizens have the right to espouse anti-monarchist views and new Canadians could publicly disavow what they consider to be the message conveyed by the oath.