Zoomer actress Kim Cattrall has withdrawn from playing the title role in "Linda" on the London stage because of unspecified health problems.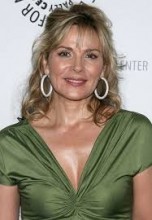 Cattrall had been set to star in the production at the Royal Court Theatre.
The 59-year old released a statement last night saying with great sadness she is following the advice of her doctors and thanked the theatre for allowing her to put her health first.
Cattrall was born in England but grew up in Canada and is best known for her portrayal of Samantha Jones on the hit TV series "Sex and the City".