Toronto's own Andre Alexis has been named the winner of the $100,000 Scotiabank Giller Prize for Fifteen Dogs.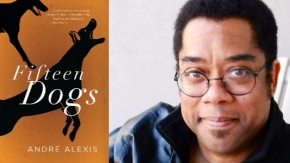 Andre Alexis read from his novel on Monday night at Koerner Hall. Last night, at Toronto's Ritz Carlton Hotel he was honoured with Canada's richest literary prize.
But he's certain the money won't change him.
"Not at all, not at all, I won't have a chance, although maybe five years from now when I look back and think, oh my God, I won $100,000, then maybe it'll change me, but now no," Alexis said after the win.
His book is about 15 dogs gifted by gods with human traits. It also won the $25,000 Rogers Writers' Trust Fiction Prize last week.
The Trinidad native says the book is the second in a series of five planned novels.
Read more about the prestigious Scotiabank Giller Prize.