War vets who live at the Sunnybrook Veterans Centre are woke up on this Remembrance Day to see 30,000 Canadian flags planted on the lawn in front of the largest veterans care facility in Canada.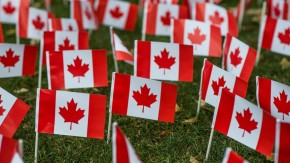 The effort is part of the Sunnybrook Foundation's Operation Raise a Flag. Volunteers came out after dark last night to plant the flags as a way to honour our veterans.
The annual gesture is appreciated by the veterans at the care centre, including World War Two vet Don Stewart.
"It brings tears to your eyes," Stewart told CP24, "and I really feel proud that I did serve my country."
Money raised from the campaign goes to the Veterans Comfort Fund at Sunnybrook. Find out more about Operation Raise a Flag
A similar display of flags can be seen in downtown Toronto at a Remembrance Day tribute at the Manulife building at Bloor and Jarvis Streets.