A note that delved into the past – while predicting the future –  has been sold for more than $12,000.
In the note, then-Liberal leadership contender Justin Trudeau predicted he would succeed Stephen Harper as Canada's prime minister.
Michael Kydd was a passenger on a Porter Airlines flight on March 20th, 2013 – and passed a note to Trudeau asking "Can you really beat Harper?"
Trudeau responded with a written quote from his late father – former prime minister Pierre Elliott Trudeau "Just watch me."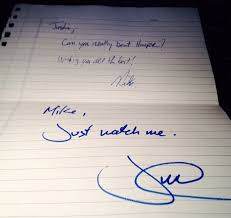 The note posted on eBay, sold this afternoon for a total of $12,301.
Trudeau's father replied "Well, just watch me!" on Oct. 13, 1970, when asked by a reporter how far he would go in limiting civil liberties – to combat separatist terrorists during the October Crisis.
Three days later, Pierre Elliott Trudeau invoked the War Measures Act.