It seems the Mediterranean Diet could potentially be beneficial for brain health as well as for the heart.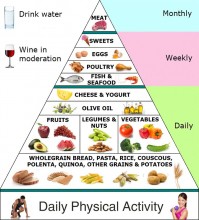 Researchers studied nearly 700 elderly participants and found those who adhered to the diet, which includes more fish and less red meat, tended to have higher brain volumes, or less brain atrophy, on MRI scans.
The study was done by way of a cross-sectional model, which represents just a snapshot of the participants' eating habits.
Results are published in the journal of the American Academy of Neurology.