Optimism reigns supreme in Blue Jays nation today after they staved off elimination with a 7 – 1 win last night over Kansas City.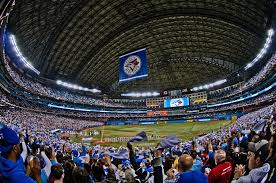 In fact, there is so much optimism the team is putting world series tickets on sale this morning at 10:00.
Among the enthusiastic is Toronto Mayor John Tory.  He's on official business in England and watched the game in a London pub, happy to share the Jays success as proof that Toronto is alive and well and over some of the more negative attributes the city has suffered in recent years.
Pitcher Marco Estrada was the hero last night scattering 3 hits over 7 plus innings and holding Kansas City to a single run.  He gets the win, but says it was the fans that earned the assist.
The Jays still need to win the final two games in Kansas City to advance to the world series. The next game is at 8:00 pm tomorrow night