Paint the GTA electoral map a solid Liberal red as Justin Trudeau's party won all the seats in Toronto and all but five in the GTA.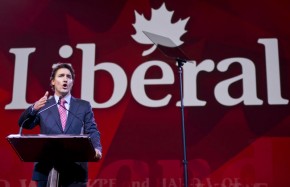 For just the second time since World War Two, a sitting finance minister has been outsted with Liberal Marco Mendicino knocking off Joe Oliver in Eglinton Lawrence.  Liberal Adam Vaughn defeated the NDP's Olivia Chow in the new riding of Spadina – Fort York. The NDP was shut out in the entire GTA with long time MP's like Peggy Nash losing in Parkdale to the Liberal's Arif Viranni.
Notable Tories going down to defeat included Julian Fantino in Vaughan – Woodbridge and Immigration Minister Chis Alexander in Ajax.
In total, 48 Liberals from the GTA are heading for Ottawa including all 25 from Toronto seats while the Conservatives managed to hang on to just 5 of their seats in the Greater Toronto Area.