It's Trudeaumania 2.0.
The son of one of Canada's most popular prime ministers is following in his father, Pierre's, footsteps. Justin Trudeau has directed the Liberals to a stunning majority victory in yesterday's federal election.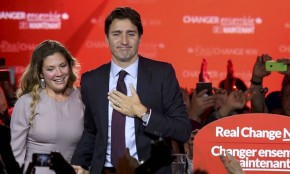 "You want a government with a vision and an agenda for this country that is positive and ambitious and hopeful, well my friends, I promise you tonight that I will lead that government," Trudeau said to applause at a Montreal victory party for supporters.
Early this morning, Trudeau tweeted one word, "ready", a dig at the Conservatives for their attack ads insisting he was "just not ready" to govern.
The Liberals soundly defeated the governing Conservatives, winning or leading in 184 seats, well above the 170 needed for majority status.
The Conservatives were a distant second with 99 seats, and the New Democrats managed just 44.
Justin Trudeau will be return to his childhood home of 24 Sussex Drive, where he grew up during Pierre Trudeau's 16 years as Prime Minister.
The Grits garnered 40 per cent of voting support from Canadians, compared to 32 per cent for the Conservatives. That breakdown is exactly what was reflected in a poll of members of CARP – A New Vision of Aging – on Friday.
Stephen Harper's run as prime minister in Canada has come to an end.
"For the 42nd time in 148 years, Canadians have chosen a national parliament. Well, tonight's result is certainly not the one we had hoped for. The people are never wrong," Harper said in defeat.
His days as Conservative party leader are expected to also be short. It's believed Harper will stay on as an MP for his own riding of Calgary Heritage, but will now look to his party to choose an interim replacement.
And after the Orange Crush of 2011 under the late Jack Layton, NDP leader Tom Mulcair has suffered an "orange crash". His party is back to third place status with 44 seats.
"I congratulated Mr. Trudeau on his exceptional achievement for both him and his party," Mulcair told disappointed supporters.
In Quebec, the Bloc Quebecois won 10 seats although Leader Gilles Duceppe lost in his riding. And Green Party Leader Elizabeth May was re-elected in her B.C. riding, but she continues to hold the lone seat for her party.