Oprah says she believes in the Weight Watchers program so much, she "decided to invest in the company and partner in its evolution."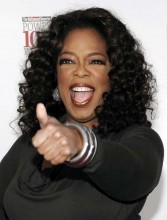 The weight loss assistance company says talk show mogul Oprah Winfrey has joined the Weight Watchers board and purchased newly issued stock representing a ten percent stake of shares outstanding. She's also purchased options to acquire an additional 5 percent of fully diluted shares.
A statement from Weight Watchers also quotes Oprah as saying "Weight Watchers has given me the tools to begin to make the lasting shift that I and so many of us who are struggling with weight have longed for."
Weight Watchers shares surged by as much as 75 percent in early trading after jumping about 90 percent in pre-market trading.