Readers around the world are ready for JK Rowling's new book.  However, it comes with warnings.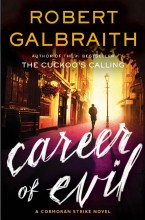 "Career of Evil" is the third installment of Rowling's acclaimed crime series written under the pseudonym Robert Galbraith.   Fans of the author behind the Harry Potter books are being warned that the new book is a qrotesque tale featuring severed limbs among other things.
Rowling says the research she conducted for the book gave her nightmarkers and early reivews have hinted at unspeakable and horrendous acts.
"Career of Evil" is being published tomorrow.