Meryl Streep has been chosen to head the jury at the Berlin International Film Festival in February.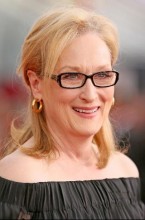 Organizers said Wednesday it will be the first time in her career that the Oscar-winning 66 year old actress has served on a film festival jury.
Streep said in a statement released by the festival; "The responsibility is somewhat daunting, as I have never been president of anything before."  She added that she is "grateful for the honour."
The Berlin festival honoured Streep for her lifetime achievement in 2012.
The 2016 event, the first of the year's major European film festivals, runs February 11-21. The seven-member jury at this year's event was led by American director Darren Aronofsky.
There was no immediate word on who will serve alongside Streep on the 2016 jury.
(The Associated Press)