Stephen Harper is trying out some new tactics in attempting to woo back disenchanted supporters.
The Conservative leader and Prime Minister turned a campaign event in Waterloo yesterday into a game show, as a party supporter piled Canadian currency into a big pile in front of a sign that read, The cost of Liberal tax hikes.  The sound of a cash register rang out repeatedly to signal the growing tally of charges to Canadians.
Harper is dismissing polls that indicate his party is falling behind the first place Liberals. He also told Zoomer Radio's Libby Znaimer over the weekend, that voters in Ontario don't want to move forward with the Ontario Retirement Pension Plan.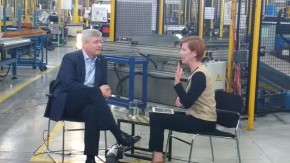 "For a lot of zoomers, they simply see this as something that they would like to do for their children and grandchildren because they know it won't help them and they're worried about the future," Znaimer told Harper who interrupted by saying, "I haven't met people who really want this at all. I don't think there's any evidence of this. No one is asking, for compulsory payroll deduction. I don't meet businesses and I don't meet workers who are saying, please take more money off my paycheque to allow politicians to manage my retirement for me. I'm just not hearing that, and I notice the other guys aren't talking a lot about it, precisely because they know that if people understand that this is what they're saying, they will be very concerned."
We'll find out from Susan Eng of CARP – A New Vision of Aging – if this is the case after the noon news on Zoomer Radio's Goldhawk Fights Back.
A lead for the Liberals increased over the Conservatives by nearly 7 percentage points in the latest Nanos poll. It marked the 11th straight day the Liberals led the Conservatives, who were below 30 percent for the third day in a row. NDP support is hovering around 24 percent. The election is this coming Monday October 19th.