Canada's Arthur McDonald, Professor Emeritus at Queen's University, will share the Nobel Prize in Physics with Takaaki Kajita of the University of Tokyo.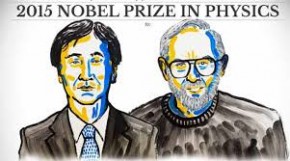 The two are cited by the Royal Swedish Academy of Sciences for discovering that the ubiquitous but elusive subatomic particles known as neutrinos have mass.  The scientists proved that neutrinos change identities as they travel through the atmosphere or through space from the sun, demonstrating they have mass.
Neutrinos are the second most abundant subatomic particles in the universe next to photons, which carry light.
The winners will split $960,000 and receive a diploma and gold medal at the prize ceremony December 10th.