There is troubling news for the Federal Conservatives in their re-election bid.
A new Nanos poll reveals that the proportion of Canadians who would consider voting Conservative has decreased to 36 percent, while 53 percent would consider voting for the NDP and 49 percent for the Liberals.
And overall support for the Conservatives has dipped to third place in a poll conducted over the long weekend.
Pollster Nik Nanos says the Conservative numbers are likely linked to news of a technical recession for Canada in the first six months of the year, the Syrian refugee crisis, and three weeks of the Mike Duffy trial. Conservative leader, Prime Minister Stephen Harper, was asked during a CBC interview why he didn't let go of more staffers when it came to light that Duffy's expenses were paid by former Chief of Staff Nigel Wright.
"You know when you have problems with Jian Ghomeshi or Evan Solomon, you don't go around firing everybody who worked for them, that's not the fair thing to do," Harper told Peter Mansbridge.
Labour Day did not provide a fresh start for Stephen Harper. The Conservatives dropped two Toronto candidates. Toronto-Danforth candidate Tim Dutaud was dismissed over online videos in which he made prank calls. And Scarborough-Rouge Park candidate Jerry Bance was let go for urinating in a coffee cup while working as a repairman in 2012. NDP Leader Tom Mulcair had some fun with that revelation, saying "he must be someone adept at Harper's trickle-down theory of economics."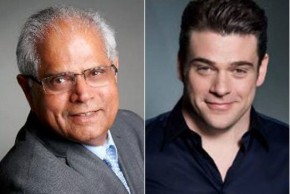 Jerry Bance/Tim Dutaud
Tom Mulcair is in Montreal to start today's campaigning, and then visits Toronto.  Liberal leader Justin Trudeau has stops in Nova Scotia and New Brunswick.  Stephen Harper begins the day in Mississauga and then heads to St. Catharines.