America's 39th president has cancer.
Jimmy Carter issued a brief statement this afternoon saying recent liver surgery revealed – he has cancer in other parts of his body.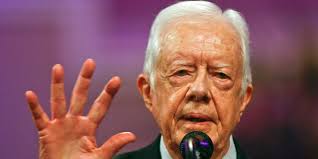 The statement makes it clear that Carter's cancer is widely spread – but doesn't clarify where it originated.
Carter is 90 years old – and will be treated at an Atlanta hospital.
Meanwhile – The head of Canada's largest railway has announced that he is taking a three-month medical leave.
C-N Rail C-E-O Claude Mongeau will undergo surgery to fight a rare type of precancerous tumour – in his larynx.
The 53-year-old businessman says the operation will be followed by six weeks of radiation treatments to cure the illness.
Mongeau's announcement came after stock markets had closed.