Frank Gifford is being called an icon of the National Football League.  Gifford died early yesterday at his Connecticut home at the age of 84. He was a Hall of Fame football player for the New York Giants and a Hall of Fame broadcaster for CBS and ABC.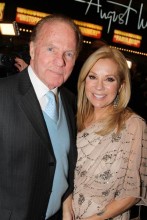 "I started out playing the game, my highlights were in black and white.  I finished up pretty good.  We won a championship, played for a guy named Vince Lombardi who was special in my life, and then I went to work for ABC.  When I put it all together, I guess I did alright, " Gifford said humbly in a 2008 interview.
Many others are remembering him fondly, including Gifford's co-host Al Michaels.
"If you grew up in New York in the 50's and 60's, there was Mickey Mantle and there was Frank Gifford," reflected Michaels.
Frank Gifford is survived by his wife, Kathie Lee Gifford, who gushed about her husband for decades on morning television calling him 'the human love machine', along with five children and five grandchildren. His family says he died of natural causes.