Older Zoomers can slash their risk of developing heart failure by half if they lead a healthy lifestyle.
A just released study says those 65 and older who walk briskly, are active, drink in moderation, don't smoke and stay at a healthy weight can fortify themselves against the threat of the condition.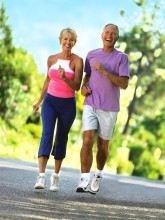 Researchers followed 4,500 men and women 65 and older who did not initially display signs of heart failure.
For nearly 22 years, they tracked the diet, walking habits, leisure activity, exercise intensity, alcohol use, smoking habits and weight.
Over that period, almost 1,400 developed heart failure.
It's estimated 500,000 Canadians live with the condition in which  the heart fails to keep a blood flow necessary to meet the body's needs.
The Heart and Stroke Foundation estimates 50,000 Canadians are diagnosed with it each year.
The study, published in the July issue of the Journal of the American College of Cardiology, estimates older Zoomers only need about 30 minutes of physical activity a day.