A milestone in aviation history.
A plane powered only by the rays of the sun has landed in Hawaii – after a five-day flight  across the Pacific Ocean from Japan.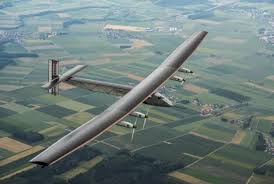 Pilot Andre Borschberg and his single-seat solar aircraft landed today at Kalaeloa, a small airport outside Honolulu – after taking off from Nagoya about 120 hours ago.
Borschberg's team says his trip broke the record for the world's longest nonstop solo flight. The late U.S. adventurer Steve Fossett set the previous record of 76 hours.
The Solar Impulse 2 flies without fuel. Instead, it's 17,000 solar cells charge batteries and the plane runs on stored energy at night.
Borschberg and co-pilot Bertrand Piccard have been taking turns flying the plane on an around-the-world voyage since taking off from Abu Dhabi in March.