Canada Post is celebrating Canada Day in a unique fashion – its first fabric stamp depicting a flapping Maple Leaf flag.
The unusually large stamp, made from rayon, features a three-dimensional image of the flag and provides $5 in postage.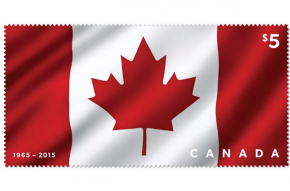 While they can be used as regular postage, they're really aimed at collectors and those looking for a one-of-a-kind souvenir to display Canadian pride.
The director of stamp services says Canada Post has wanted to do something like this for years but waited for the right opportunity.
Jim Phillips says "the flag for Canada's first fabric stamp was the perfect subject and the 50th anniversary of the flag was a great time."
Designer Kostas Tsetsekas has worked about about 70 different stamps for Canada Post, but this one was special as the flag's anniversary coincided with the 50th anniversary of his family's arrival in Canada.
Sales of the fabric stamp have been strong.
The post office expects a sellout this summer.
Only 300,000 are for sale.
A second version made of paper, and more similar to basic stamps, is also available.