It was a story that garnered worldwide attention.
The second of two convicted killers who escaped from an upstate New York prison a little over three weeks ago is now in critical condition in a hospital in Albany.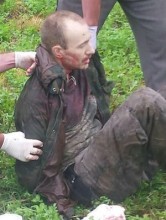 David Sweat was shot yesterday by a police officer who was on routine patrol near the town of Constable, which is only three kilometres from the Canadian border.
New York Governor Andrew Cuomo was greeted with applause as he announced the capture.
"We are here with good news…the nightmare is finally over.  It took 22 day," Cuomo delighted.
The three week manhunt began with an astonishing escape from Clinton Correctional Facility on June 6th.
The big break was finding fellow escapee Richard Matt on Friday.  He was shot and killed by a U.S. border agent near Malone, New York.
From there, police found a campsite where they identified DNA evidence belonging to David Sweat.