Gay and lesbian couples already can marry in 36 states and the District of Columbia.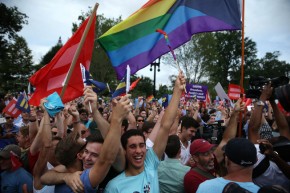 In a landmark, 5-4 ruling by the U.S. Supreme Court, the remaining states – in the South and Midwest – will have to stop enforcing their bans of same-sex marriages.
Justice Anthony Kennedy wrote the majority opinion, just as he did in the court's previous three major gay rights cases dating back to 1996.
Outside the court, supporters cheered, danced and wept.
Many in Toronto for the Pride festival, which ends this weekend, likely doing the same.
President Obama took to Twitter, praising the decision as "a big step in our march toward equality," adding gays and lesbians now have the right to marry, "just like everyone else."