It was an evening of insight into the latest in cancer research as the Princess Margaret Cancer Centre kicked off a $50-million fundraising campaign for major donors.
The Shangri-La Hotel in downtown Toronto hosted the special event called An Evening with Canada's Cancer Code Breakers that featured our own Libby Znaimer on stage with one of the top cancer researchers in the world.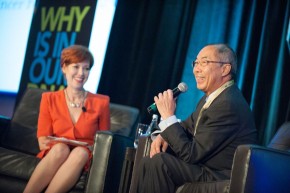 "T-cells are kind of white blood cell that protect the body from infection, and you're best known for discovering the T-cell receptor," Libby said to Dr. Tak Mak.
"We were very lucky in 1984, I had a team that discovered the code and how the code is actually made," Dr. Mak, senior scientist at the Princess Margaret Cancer Centre, began to explain.
He says this is a very exciting time for cancer research.  "In the last five years, cancer researchers and doctors have learned how to steer our immune system to actually attack the cancers, and you cannot get more personalized than our own immune cells killing our cancer cells."
Due to his expertise, Dr. Mak has the ability to work anywhere in the world.  But fortunately for us, he's been a loyal member of the team at Toronto's Princess Margaret since 1974.  In fact, he was recently recognized as one of the RBC Top 25 Canadian immigrants.
"He's eight times more accomplished than the most accomplished researchers in the world.  He's an entrepreneur, he's extremely creative, and he is driven to bring new drugs to the market," said President and CEO of the Princess Margaret Cancer Foundation Paul Alofs.
For more information on the larger Princess Margaret billion dollar challenge for personalized cancer medicine, click here