There's a renewed push to reduce residential street speed limits to 30 kilometres an hour.  The move began last summer after a 7 year old girl was struck and killed by a van in Leaside.  Councillor Josh Matlow then proposed that speed limits on residential streets in East York and the old City of Toronto be reduced from 40 kilometres an hour to 30 km/h.  He used a Toronto Board of Health report from 2012 which reveals pedestrians are far less likely to be killed if hit by a vehicle travelling 30 kilometres an hour versus 50 kilometres an hour.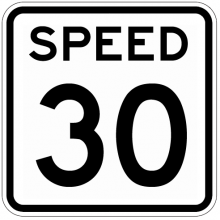 Now a group of downtown councillors has renewed the call and will hear from residents on the issue tonight at Toronto City Hall.
Implementing the plan would cost $1.1 million to install nearly 4450 traffic signs and re-time 310 traffic signals. Councillor Gord Perks refers to the east Gardiner hybrid proposal in saying that the city can afford this change.
"We recently just decided to spend $1-billion helping 5000 people shorten their commute by three minutes, certainly we can find a million or two (dollars) to help everyone who lives in Toronto and East York have safer streets," Perks explained to the CBC.
But a city transportation staff report says blanket speed reductions are only effective when they're combined with other measures such as speed bumps and increased police enforcement.