The TTC's updated the timeline for the implementation of the Presto fare card system.
Presto card readers have gradually been added since the beginning of the year.
By next month 26 stations will have them with the rollout complete across the TTC by the end of next year.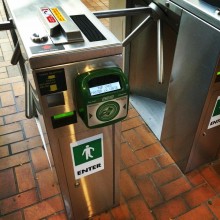 The TTC's still working on when it'll phase out tickets and tokens but hopes to start doing so by the middle of 2017.
Chair Josh Colle says it'll be more convenient and will eventually enable the TTC to implement a range of pricing methods for using the system.
But the head of the union representing transit workers is questioning the timeline.
Bob Kinnear says "it's unrealistic that they're going to eliminate" the existing fare structure within a-year-and-a-half.