Toronto has a new waterfront promenade! After 3 years of construction, Queens Quay officially reopens today.
The results are more than a decade's worth of public consultation and work undertaken by Waterfront Toronto.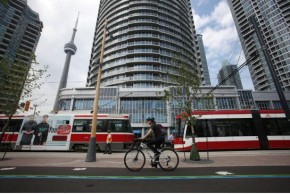 (photo credit: Toronto Star)
"We've converted the street such that we have a 2-way, 2-lane street north of the TTC tracks, the LRT.  On the south side, we've taken those eastbound lanes and converted them to a linear park that will run from Spadina eventually through to Parliament Street, so we're opening of course, from Spadina to Bay Street at 7 o'clock tonight," Waterfront Toronto CEO John Campbell explained to CBC.
Urban planners say there's a place for everybody on Queens Quay now. There are separate lanes for cars, streetcars, cyclists and pedestrians, what's billed as a "complete street."