Regulations to standardize police street checks, known as carding in Toronto, will be brought in after the Wynne government holds consultations.
Not good enough say those opposed to the controversial police practice.
Prominent carding critic Desmond Cole, says he's fine with police having informal conversations with communities and questioning people in formal investigations, but adds anyone not suspected of a crime should not be documented.
Deputy Ontario NDP leader Jagmeet Singh tells Zoomer Radio's Goldhawk Fights Back, the government is seeking to regulate something that cannot be regulated.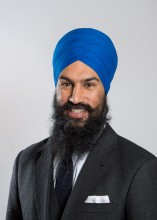 "It's very clear that stopping someone arbitrarily, unreasonably searching someone, these are things that are protected by the Charter (of Rights and Freedoms).  These are things that violate the Charter and so if the police are engaging in any activity that is arbitrary, that is unreasonable, that is not based on any evidence, then it shouldn't be done.  And it should be banned."
The province will consult with community groups, police, civil liberties advocates and the public over the summer before bringing in regulations in the fall.