As promised, Ontario is bringing-in new regulations to reduce the number of acres planted with corn and soybean seeds that are coated with a relatively new class of pesticides known as neonicotinoids – which are toxic to bees.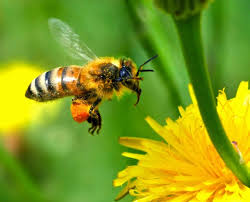 The new rules come into effect on July 1st.
Almost 100 per cent of Ontario's corn seeds – and about 60 per cent of soybean seeds are treated with those pesticides – and the province wants to reduce that by 80 per cent – in just two years.
For the 2016 planting season, farmers will be allowed to use the pesticide-treated seeds on up to 50 per cent of their corn and soybean crops – but they have to prove they have a pest problem – before using any additional neonicotinoids.
Beginning in the 2017 planting season, farmers must complete a pest assessment report – to prove they need the neonicotinoids before any use will be allowed.
The Ontario Beekeepers Association has praised the government  "for having the courage to act in the face of intensive lobbying and pressure from the AgChem industry seeking to protect their profits."
Environmental groups – including Ecojustice and the David Suzuki Foundation – also applauded Ontario's move to regulate the use of neonicotinoids to help protect bees, birds and other pollinators.