A long-running legal action launched by veterans against Ottawa is being mothballed until after federal election — maybe forever.
Lawyers for the government and veterans have agreed in a Vancouver court to put it on hold.
Veterans argue soldiers today are discriminated against compared to those who fought in earlier wars.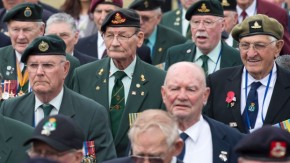 The government incensed vets by claiming Ottawa has no extraordinary obligation to those who have fought for Canada.
However since then, the Harper Conservatives have unveiled a number of measures to improve benefits for vets.
A lawyer for the veterans says considering that and the fact there's an election looming, they're willing to give Ottawa until May 2016 to see if things improve.
In exchange, the government's agreed to walk away from its appeal of the decision that allowed the class-action lawsuit to proceed, but instead a judge has simply ordered the case be placed on hold.