Just 15 days after having cancer surgery, city councillor Rob Ford was discharged from Mount Sinai Hospital this afternoon.
He didn't go directly home.
Instead, the smiling, thinner Ford stopped in at city hall.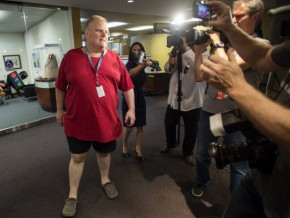 Ford, who turns 46 Thursday, says the pain he felt in the days after surgery was unlike anything he's ever experienced.
"For the first 10 days, I was just basically crying like a baby.  It was so painful."
Saying this has been an eye-opening experience, Ford said he wants to remind everyone not to take anything for granted.
"I wouldn't want anybody to go through what I went through, but hope people can learn from what I have gone through."
Obviously anxious to return to work, Ford weighed in on one of the more controversial debates facing city council – the future of the eastern stretch of the Gardiner.
He says he wants to save the expressway and opposes tearing it down as well as the so-called "hybrid" option.
A report from staff with a recommendation about the best option goes to council June 21.
Ford's hoping to be back at city hall to take part in the debate.