As the Wynne government awaits a decision on the legality of strikes by high school teachers in Durham, Peel, and Sudbury-area, and advice from the Education Relations Commission on whether the school year's in jeopardy, the premier's not ruling out back-to-work legislation.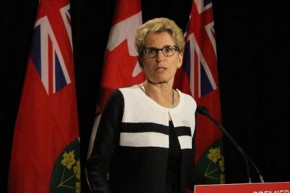 Kathleen Wynne says, "I will take whatever action that I need to take to get the students back to school as quickly as possible."
Meanwhile, the ruling from the Ontario Labour Relations Board is not coming this week.
The chair says it'll be the middle of the week at the earliest.
Over 70-thousand students have been kept from class in the Sudbury-area, Peel and Durham, where that strike's in its fifth week.