Celine Dion says it's time for her to get back to performing in Las Vegas and she's dedicating her return to her ailing husband.  Rene Angelil has been recovering after having a cancerous tumour removed last year.
"He wants me back.  He wants me strong.  He wants to see me again because I'm his favourite singer," Dion said of her husband Sunday backstage at the Billboard Music Awards.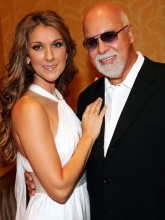 Dion, 47, is returning to The Colosseum stage at Caesars Palace August 27th after a yearlong hiatus to care for her husband.  She also had her own issues with inflamed throat muscles, and says she took the time to recover.
As for whether Las Vegas is getting too crowded with female superstar divas, including Britney Spears, Mariah Carey and Jennifer Lopez, Celine just laughs, "No we're ready for more, come on down, the price is right.  It's the new capital of show business, so let's enjoy it!"
Celine Dion's residency will resume with 40 performances between August and January.
(The Associated Press)