Stephen Poloz still believes that the Canadian economy is on the verge of an export-led bounce back after stalling earlier in the year.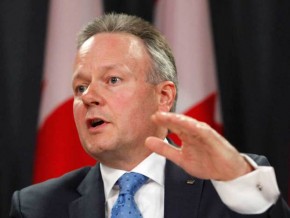 However, the governor of the central bank told a business crowd in Charlottetown, the recovery faces "choppy waters," especially from the threat that oil prices could start tumbling again.
The bank's latest forecast, released last month, calls for no growth in the first quarter, followed by growth of 1.8%, 2.8% and 2.5% in the following quarters.
The Bank of Canada's next scheduled interest-rate announcement is next week, but many economists expect the bank to keep its trend-setting overnight rate at 0.75%, where it's been since a surprise reduction in January.
Poloz says the economy remains on track to reach full capacity and sustainable growth by late next year.