Saying there was no reasonable prospect of conviction, the prosecution has dropped two sex assault charges against former CBC broadcaster Jian Ghomeshi.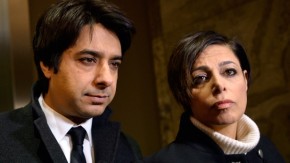 He still faces five counts of sex assault and one of overcoming resistance by choking.
Ghomeshi will stand trial on four of the assault charges and the overcoming resistance charge next February.
A second trial on the final sex assault count will begin next June.
The 47-year old Ghomeshi has opted for trial by judge with no jury.
He has admitted to engaging in rough sex but said it was consensual.
His lawyer has said he will plead not guilty to all charges.