Rob Ford faces months of recovery after his successful surgery at Toronto's Mount Sinai Hospital yesterday to remove a cancerous tumour from his abdomen.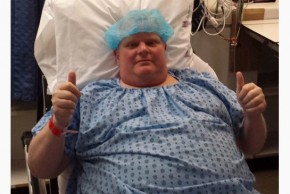 (Ford pictured before his surgery on May 11, 2015)
His brother, Doug Ford, was outside the hospital last evening and said Rob was alert, but very uncomfortable.
"He's in pain.  He's in major pain, but they're taking care of that, but he's wide awake, that's for sure," Doug Ford explained.
The city councillor and former mayor was under anesthesia for about ten hours yesterday.  Ford's chief of staff, Dan Jacobs, says doctors found no new growths and were able to remove all existing growths.  Ford has been told by his doctors to take it especially easy for up to three months.
His surgery followed several rounds of chemotherapy and radiation which he said had reduced his tumour to an operable size.