Omar Khadr has experienced his first evening of freedom since he was 15 years old.
The Toronto born convicted terrorist made a statement outside his lawyer's home in Edmonton last night after he was released on a strict set of bail conditions earlier in the day.
"I would like to thank the Canadian public for trusting me and giving me a chance…It might be sometimes (sic), but I will prove to them that I'm more than what they thought of me.  I'll prove to them that I'm a good person," the former Guantanamo Bay detainee explained.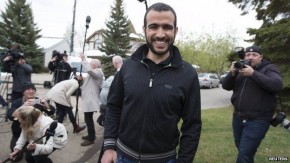 It marks the start of a new chapter that began when Khadr was a child in the training camps of al-Qaida leader Osama bin Laden.  Now 28, Khadr had asked to be released from prison while he appeals his U.S. convictions for killing an American soldier in Afghanistan in 2002.  U.S. Sergeant Layne Morris was injured in that same firefight and believes Khadr should not be trusted.
"I think it's probably a terrible mistake.  I'm all for giving people second chances.  I just haven't seen anything out of Omar Khadr that informs me that this is anything different than the original Khadr, who was freed from prison 30 years ago in Pakistan, and it seems to me that we're just making that mistake all over again," Morris said by skype to CTV News.
The Khadrs have been called Canada's "first family of terror".
Omar Khadr's father, an associate of Osama bin Laden, took the family to Peshawar in Pakistan to support the Afghan mujahedeen in their war against the Soviet Union when Khadr was a baby. The father died in a fire fight with Pakistani troops near the Afghan border in 2003.