She wrote more than 60 novels in a career spanning 50 years, her best-known creation being Inspector Wexford, which was turned into a highly successful British TV series.  Ruth Rendell, one of England's best-selling contemporary authors, who also wrote under the pen-name Barbara Vine, died over the weekend in London, the result of a stoke she suffered in January.  Rendell was 85.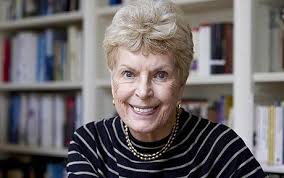 Rendell authored more than 20 standalone novels, whose protagonists were often on the margins of society. She was awarded the Crime Writers' Association Cartier Diamond Dagger for excellence in crime writing.  Her final novel, Dark Corners, is due to be published in October.
Rendell began her writing career as a reporter on an Essex newspaper.  However, she was forced to resign after filing a story about a local sports club dinner that she hadn't attended. Her report failed to mention that the after-dinner speaker had died half-way through the speech.