A former top Ontario bureaucrat appears set to be Toronto's next city manager.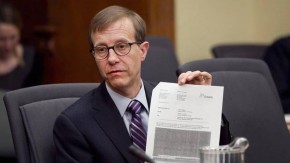 (Photo credit: The Globe and Mail)
There are a number of reports that Peter Wallace will succeed Joe Pennachetti, who put off his retirement by 6 months to assist the new mayor John Tory.
Wallace is a former Ontario secretary of the cabinet who played a key role in exposing the scandal involving an alleged data purge in then Premier Dalton McGuinty's office.
Mayor Tory says a candidate has been chosen, but he would not confirm that it is Peter Wallace.
"It's difficult to even think about replacing someone like Joe Pennachetti because he's been such a dedicated and capable public servant, but we've been through an extensive process, involving interviews, involving a number of members of city council and otherwise, and I will have a recommendation that will be made to city council next week," Tory explained on Thursday.
Peter Wallace retired as head of the Ontario bureaucracy last year after more than 30 years working for the province.  Since then, he has been a visiting fellow with the University of Toronto's School of Public Policy and Governance.